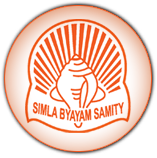 History & Tradition
Simla Byayam Samity And Sarbojanin Durgotsav's Brief History
Estd. 1926
Late Atindra Nath Bosu, who on one hand established Simla Byayam Samity, in the year 1926, introduced the first Sarbojanin Durgotsav in Bengal as well as in India in the compound of Simla Byayam Samity. The word 'Sarbojanin' is specially significant because prior to this no puja had the title of the word 'Sarbojanin'. The word 'Sarbojanin' means, anything which the public has a right to and which is for the general wellbeing. Prior to this Durga Puja in Bengal was conducted in some Zamindar houses and in the houses of some rich people. This was a source of enjoyment and entertainment to the Zamindars and rich people. In these Pujas, people, without distinction of caste and creed from all levels of the society did not have the right to attend. In these Durga Pujas, only a few rich people belonging to high society had the right to attend as invitees.
Revolutionary Atindra Nath Bosu, who established Simla Byayam Samity thought that if "Maa Durga" belonged to everybody and if organizing Durga Puja was for the well being of the society, then, people from all caste, creed and religion should have the right to attend the Puja. As a result of this thought, Late Atindra Nath Bosu in the year 1926, in the administration of Simla Byayam Samity, in the compound of Simla Byayam Samity introduced Bengal's foremost 'Sarbojanin Durgotsav'.
The main purpose of organizing Sarbojanin Durgotsav was to organize the youth power of that time through the worship of Durga. This youth power would by means of this organization actively participate in India's struggle for freedom against the British Government at that time.
Before discussing the history of Sarbojanin Durgotsav it is necessary to know a few things about Simla BYAYAM Samity and its founder, Late Atindra Nath Bosu.
Before the establishment of Simla BYAYAM Samity, Late Atindra Nath Bosu was thoroughly involved in various revolutionary and social welfare organizations. He was a close associate of Jyotindra Nath Mukherjee alias Bhagha Jatin and had close connection with Aurobindo Ghosh [Rishi Aurobindo] as a revolutionary. He at various times actively participated in the struggle for freedom and worked as assistant to revolutionary leaders of the first line. Atindra Nath Bosu was imprisoned a few times for his revolutionary activities.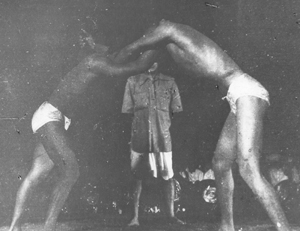 Wrestling match in progress at club 'akhara'Atindra Nath Bosu thought that if the youth did not possess sound health then it would be very difficult for them to fight against the British. For that purpose on 2nd April, 1926, he founded Simla Byayam Samity so that the youth could acquire good health. Simla Byayam Samity grew up mainly as a body building centre. Here, at first, training for wrestling, exercise and training of fighting with Sticks were held. Later, training of the ways of military force was also given. Training was also given of football, volleyball and various other sports. Many famous wrestlers and Stick sportsmen of the country were student members of Simla Byayam Samity. Atindra Nath Bosu's eldest son, Late Amarendra Bosu and his other sons had special expertise in fighting with sticks and wrestling. The students of Simla Byayam Samity attained good reputation by participating in wrestling and stick fighting competitions held in different places of the country. They also participated in wrestling and stick fighting exhibitions of the Indian National Congress meetings in different parts of the country. In the compound of Simla Byayam Samity at various times National level Stick fighting and wrestling competitions were organized where India's famous wrestlers and stick fighters participated. The female members of Simla Byayam Samity were equally expert in stick fighting and knife fighting.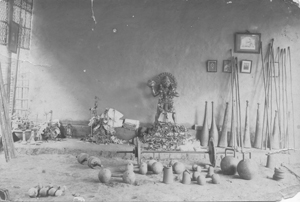 Historic body-building equipments at the club 'akhara' and 'Mahavir' at the backgroundThe main aim of the establishing Simla Byayam Samity was to build healthy and morally courageous Bengali youths so that, they could at any time plunge for the freedom movement of the motherland and they could extend their help to the weak and miserable people. Establishing Simla Byayam Samity and building it as an ideal institute of physical development, Atindra Nath Bosu also through this association at that time started his political and social organization. Inspired by Late Atindra Nath Bosu and on the call of Congress, many members of Simla Byayam Samity participated in the non-cooperation movement and accepted imprisonment. Even his own sons at different times participated in the freedom fight at various levels and were imprisoned many times. During the time of communal riots also, the members of Simla Byayam Samity came forward in helping people from both sides and played an important part in restoring peace. During various natural calamities like flood, draught, the members of the Samity engaged themselves in caring for the affected people.
On 20th April 1929, in the Calcutta Municipal Gazette it was published about that time's Simla Byayam Samity ---- "We would like to take the opportunity of offering our sincerest congratulation to the authorities of the Simla Byayam Samity on the splendid work they are doing for the improvement of the physique of the boys and young men of North Calcutta .... Calcutta must be covered by gymnasium like the Simla Byayam Samity before we can hope to see our young men stand with their heads erect and walk with their chest forward".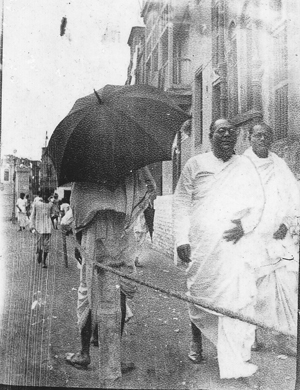 Netaji Subhash Chandra Bose with Sarat Chandra BoseAt that period honorable political leaders like 'Deshpriyo' Jyotindra Mohon Sengupta, Netaji Subhash Chandra Bosu, Sarat Chandra Bosu, Suresh Chandra Majumdar, Makhan Lal Sen, Dr. Bhupendra Dutta, Bankim Mukherjee, Rajen Deb, Hemanta Bosu, Radha Raman Mitra, Dr. Bidhan Chandra Ray, Kiran Shankar Ray, Prabhu Dayal Himmatsingka, Madan Mohan Burman and many others regularly visited Simla Byayam Samity and the members of the Samity were directly involved in the work schedule of these leaders. During the struggle for freedom for political actions on 4th March 1916 Atindra Nath Bosu and his eldest son Amar Bosu were imprisoned together and were released in 1920. This extraordinary incident of father and son being imprisoned together created an immense stir in Bengal politics at that time.
As the prime leader of the Dalhousie Square Bomb Case, Samity member Dr. Narayan Chandra Ray was adjudged a guilty in the British Court and as punishment was exiled to far off Andaman Jail.
The female members of the Samity were on the first line in the struggle for freedom amongst which worth mention are Urmila Devi, Mohini Devi, Jyotirmayi Ganguly. Ila Sen, Shanti Das, Ashalata Das, Indira Devi, Bina Das, Kalpana Dutta (Joshi) and many others.
Due to various political reasons the British Government, on 4th January 1932 declared Simla Byayam Samity as illegal and the Samity was closed by them and all furniture along with sports equipments were confiscated. At that time the Samity was administered in the name of 'Byayam Samity'. On 7th October 1934, when the British Government withdrew the order it started operating in the name of 'Simla Byayam Samity' again.
Our founder Atindra Bosu's eldest son Amar Bosu was the life-breath of the samity and was a mentionable personality in West Bengal politics. He was an eminent freedom fighter and by participating in the freedom struggle at various levels was imprisoned many a times. He was Netaji Subhash Chandra Bosu's foremost companion. He was seated in different posts of Bengal's Provincial Congress Committee at different times. Later following Netaji's ideals he joined the Forward Block Party. Subsequently, believing in Marxism he formed Marxist Forward Block and became the Chairman of the party. Post freedom, he participated in many people-friendly revolutions and was imprisoned many times. Amar Bosu was the elected member of West Bengal Legislative Assembly for a long time. Among the political leaders and workers he was acquainted as 'Amar-da' or 'Bor-da'. West Bengal's Chief Minister Dr. Bidhan Chandra Ray and Prafulla Chandra Sen specially honoured him. Chief Minister Shri Jyoti Bosu and other leftist leaders specially respected 'Amar-da'. Under the leadership of father Atindra Nath Bosu and son Amarendra Nath Bosu, Simla Byayam Samity grew up as an organization of revolutionary movement and was considered as Bengal's as well as India's Holy Ground of revolutionary movement.
Sarbojanin Durgotsav
Picture of first puja in 1926, the idol was built in one canvas.The reason why Durga Puja of the Bangalis was designated as 'Sarbojanin' or the reason why Goddess Durga was established in the Sarbojanin compound has been discussed in brief in the beginning. The founder of Simla Byayam Samity in the year 1926 introduced the very first 'Sarbojanin Durgotsav' in Bengal. The first priest of this Puja was Late Dr. Chapala Kanta Bhattacharya. On the first year Late Shri Nitai Chandra Pal was the artist of the idol. Initially, as was customary, the idol was built in one canvas and the puja pavilion roofing was of bulrush leaves. The worship was conducted with remarkable respect and devotion. In 1939 five separate canvases were prepared on the same dais and the idols were installed separately. Swami Vivekananda's second brother Shri Mahendra Nath Dutta who was Atindra Nath Bosu's neighbour, referring to various Sanskrit verse quotations supported this work of Shri Atindra Nath Bosu. While the idols were being constructed he came to the Samity compound regularly and supervised the installation process, about the idol structure, colour, dress, arms placement and so on by quoting Sanskrit verses. Installing idols in this way created a stir in Kolkata because in constructing the idol of 'Maa Durga' separately, Simla Byayam Samity created the precedence. At that time Atin Babu's effort in the said matter received reception from the artist circle. Many members of the Tagore family visited the idol and appreciated it. In the same year Shri Subhash Chandra Bose unveiled the idol. In the Durga Puja a vast "Annakaut" was organized for. Netaji Subhash Chandra Bose, Sarat Chandra Bose and other leaders participated in this "Annakaut" with the general spectators and took Prasad.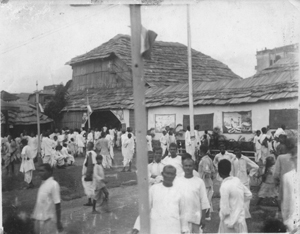 Initially, as was customary, the idol was built in one canvas and the puja pavilion roofing was of bulrush leaves (Hogla Pata)Initially, the idol of Simla Byayam Samity was dressed with a Khadi Saree and for that reason the idol in the learned society was titled as "Swadeshi Thakur".
As a part of Durgotsav, Shri Atindra Nath Bosu, through Puppet Shows and other games, organized exhibition on political and social matters. Every year through puppet shows and poster exhibition, incidents like Sipoy Mutiny, Bagha Jatin's battle of Baleshwar, bravery of Matangini Hazra, robbery of Chattogram armory, August revolution, Kohima Struggle, Swami Vivekananda's call of socialism, the death of Mahatma Gandhi, Nataji's revolutionary life and disappearance, the necessities of Unity, Rabindranath and Vivekananda's ideology were displayed. On the posters various types of speeches were written, amongst which worth mentioning are :-
"Rakktammudi aji mora monthol tulia anibo swadhinata dhon"
"Somoy hoyeche neekot ekhon badhan cchirte hobe"
"Hey Bharat bhulio na tomar nari jatir adarsha"
"If you live, Live dangerously"
"Natun Bharat beruk langal dhore, chaser kuthir bhed kore, jele, mala, muchi mathorer jhupri theke - berook moodir dokan theke, bhuno walar wunoner pash theke berook jhar, jangal, pahar, parbat theke, etc."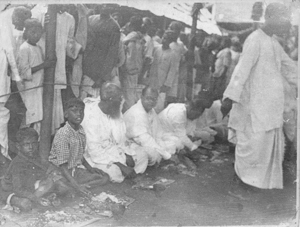 Photo of 1928, Netaji Subhash Chandra Bose and Sarat Chandra Bose having prasad of Astami Puja AnnakautOn the occasion of Durga Puja, 'Birastami Puja' was also organized where eminent people participated in Stick Game, Knife Game, Yoga, Wrestling display. On the occasion of 'Birastami Utsav', Saralabala Devi, Dr. Prafulla Chandra Ray, Amrita Lal Bosu, etc. were often present.
At that time in different newspapers and magazines Simla Byayam Samity's puja was praised profusely. In Bengali Weekly magazine, 'Banglar Bani', Shri Chopola kanta Bhattacharya wrote "In the present year in Kolkata the Sarbojanin Durgotsavs which has been organized, we have noticed a particular way of Hindu society and Hindu worship, which is, in the field of religious practices the entire Hindu society, irrespective of caste, creed, rich, poor, stand together and there has been a change in the thought of Hindu practices among the ordinary people by seeing this Sarbojanin Durgotsav".
The magazine 'Advance' commented on Simla Byayam Samity's Durgotsav as "At the Simla Byayam Samity the Durga Puja was celebrated with great splendor... infact the men in the street called the exhibition under the sobriquet of "Swadeshi Thakur".
In 1953, on the opening of Durgotsav Exhibition, Late Suresh Chandra Majumdar mentioning Simla Byayam Samity's contribution in the nations struggle for freedom, said, "Sarbojanin Durgotsav in our social life is modern development; Simla Byayam Samity is the pioneer of that development".
"Sarbojanin Durgotsav" introduced by Late Atindra Nath Bosu, founder of the Simla Byayam Samity, has been cordially accepted by all sections of the society and as a result of their cheerful participation, today "Sarbojanin Durgotsav" has spread across Bengal, India and also in various parts of the world.
The primary purpose of introducing "Sarbojanin Durgotsav" was to accumulate strength by worshipping Goddess Durga and to be included in the struggle for freedom of the Motherland. This purpose was successful by the attainment of India's freedom, but the chief motive of Sarbojanin Durgotsav was to terminate the differentiation of caste, creed, religion, rich and poor in various sections of the society. Even after 50 years of independence those discrimination are present, rather has assumed a more clear form. Hence, our continuous prayer to Goddess Durga is that May She bless us with adequate learning, intelligence, strength and sensibility so that we can struggle ceaselessly against these unpleasant differentiation to eliminate discrimination at various levels of the society.
In the post freedom period, we, present members of Simla Byayam Samity are utmost devoted in preserving the heritage established by our former generation. In different years Simla Byayam Samity's Durgotsav compound is honoured by the footsteps of many adorable people of various sections of the society - we are obliged forever to them.
In the post freedom period, we, present members of Simla Byayam Samity are utmost devoted in different social welfare works and in the advancement of sports. In various years caring for the flood stricken and draught stricken people, helping the poor and dying patients, organizing Blood Donation camp during Durga Puja annually, imparting clothes to the poor are worth mentioning. Amongst them special mention goes for donation of Rs. 1,05,000/- to Prime Minister's Relief Fund for the flood in 1978, donation of Rs. 76,000/- for the relief of earthquake victims of Latur, Maharashtra and donation for the children suffering from Thalassemia.
For the betterment of physique of the children and youth, many sports like, Yoga, Cricket Coaching Camp, Gymnastics and annual Volley Ball team of First Division are conducted.
We believe with confidence that in the future days also with the unhesitant and generous cooperation from people of various sections and of different organizations, we will be able to devote ourselves in caring for the Motherland.
For-SARBOJANIN DURGOTSAB.
SIMLA BYAYAM SAMITY
Baikuntha Nath Seal
Rabindra Nath Dawn
Joint Secretary

Courtesy : Late. Birendra Nath Basu son of Late. Atindra Nath Basu
Edited By : Rabindra Nath Dawn English Translation : Avijeet Das and Reshmi Kundu
Durgotsav 2017

Watch Simla Byayam Samity's Durgotsav gallery 2017
Durgotsav 2016

Watch Simla Byayam Samity's Durgotsav gallery 2016
Durgotsav 2015

Watch Simla Byayam Samity's Durgotsav gallery 2015